Newsletters
COVID-19: A PKNW Perspective
COVID-19 is ever present. California workers' compensation and its no-fault system of benefits is no exception. Executive Order N-62-20 broadly applied a legal presumption well-know to us at PKNW as certain occupations have been afforded presumptions for many years (See California Labor Code § 3212 et. seq.). Executive Order N-62-20 expanded qualified occupations quite broadly, but also in quite limited manner, at least for the time being. 
It is certain by now all have experienced some "COVID-19" overload, a condition that certainly should be recognized not only as lacking an permanent impairment of activities of daily living, but also easily cured by simply "tuning out" all that is not "essential" to surviving what is accurately termed a pandemic.
It is in this spirit PKNW has created the following easy-reference "flow and column chart" related to current California COVID-19 claims handling. It is by no means intended to be "comprehensive" or "inflexible." It is provided to let a reader "tip-toe" into deep waters, but also to give a good guideline for implementing individual claim strategies as increased filings are already being reported and are expected to continue.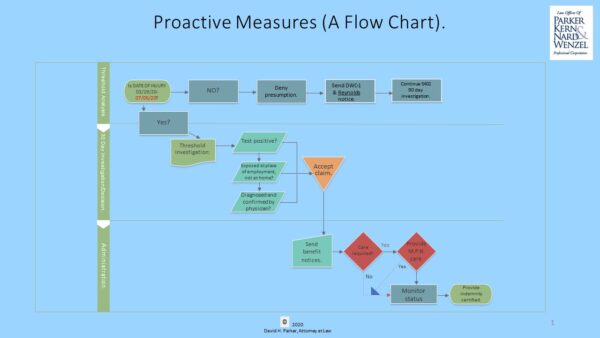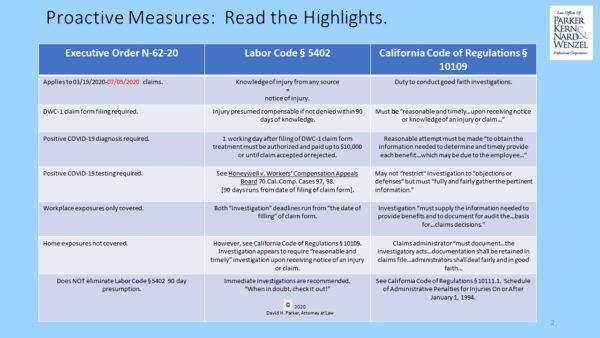 These slides are a portion of a more complete presentation which is designed to be presented remotely. If you wish a "completely COVID-19 safe" remote presentation for you and/or your organization do not hesitate to contact us.
Legislation is currently pending in California that will expand this limited presumption. So "stay-tuned."
We are, and will continue to be here throughout and after this pandemic to assist you with all your workers' compensation defense needs.
Stay safe and well.